Manali cops ask local MLA for bribe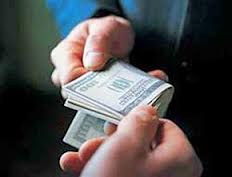 Manali: Two policemen in Manali stopped the car of the local MLA in this Himachal Pradesh hill station and allegedly asked the driver for a bribe reports said Wednesday.
Local newspaper reports said the incident took place Tuesday when Manali MLA Govind Singh Thakur was passing by in his car.
The constables demanded a bribe from the driver. But when they spotted the MLA on the back seat the sheepish cops began smiling and claimed they were only joking with the driver.
The furious MLA immediately got in touch with the Kullu SP and immediately suspended the two men.
The SP is probing into the extortion racket and more policemen in the ring could lose their jobs .
Manali is one of the most popular tourist resort towns in northern India.
If the local MLA's car can be stopped by the police and a bribe demanded , one can imagine how deep the rot is. Imagine how the tourists are being harassed and looted !