9th MTB Himalaya rally to have top world cyclist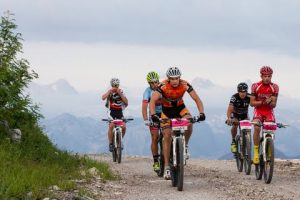 Shimla : The biggest star of the MTB Himalaya cycle rally this year will be the world number 9 Luis Leao Pinto of Portugal.
"Besides being world number 9 , Pinto is the Portuguese national champion and ranked 6 th in Europe. A mountain biker at heart he prefers dirt roads over tarmac," said Abhinav Chauhan , media spokesman of MTB Himalaya.
"The nine year old event will see around 80 participants. Including cyclists from eight countries, and Indian air force and army cyclists," Chauhan told Sun Post .
The race starts on Sept 27 and ends on 3 rd Oct . It will cover around 500 km Himalayan back country covering 100 villages enroute.
This year the route has been changed to surprise the bikers. There will be single and forest tracks. Jeep roads and one single day with climbs of close to 2000 metres .
There will be back breaking uphill and steep downhill routes . The race will touch the highest altitude at 3400 metres at Hatu peak. On an average 70 to 80 km will be covered in a day .