Leopard strays into Himachal house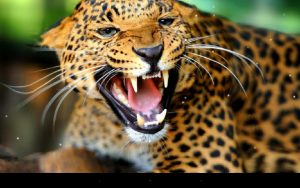 Shimla : A leopard walked midnight into a house in Himachal Pradesh's Suri village of Una district on Saturday night, reports reaching here said Sunday.
Three people of a family were watching television and were shocked to see the big cat entering the house as if it were its den.
They fled in panic and in all the commotion one of them was clawed and injured by the leopard injured. Once out of the room they locked the door from outside and raised an alarm.
Many villagers gathered outside the house. Earlier two other people were also reportedly injured when the leopard entered the village.Wildlife officials were called.
Meanwhile the trapped and alarmed leopard tore the mattress and other furniture in the room.The angry cat even damaged the television set.
After midnight wildlife officials arrived and tranquillised the animal and shifted the big cat to nearby zoo.