There is no smart Aadhaar card : UIDAI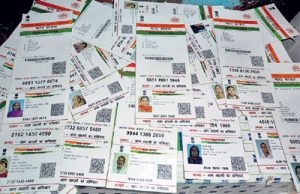 Shimla : An Aadhaar card which is downloaded on ordinary or a cut away portion is perfectly valid.
An official of the UIDAI on Tuesday warned not to fall to the ploys people who were charging money for printing Aadhaar on a plastic card in the name of smart card.
Some entities have also been charging far more for simply laminating the downloaded version of Aadhaar.
"The Aadhaar card or the downloaded Aadhaar card printed on ordinary paper is perfectly valid for all uses. If a person has a paper Aadhaar card, there is absolutely no need to get it laminated or obtain a plastic Aadhaar card or so called smart Aadhaar card by paying money."
"There is no concept such as smart Aadhaar card," informed Director General & Mission Director of UIDAI, Ajay Bhushan Pandey said.
In case a person loses his Aadhaar card, it can be download free of cost from https://eaadhaar.uidai.gov.in/.
The print out of the downloaded Aadhaar, even in black and white form, is as valid as the original Aadhaar letter sent by UIDAI. There was absolutely no need to print it on plastic card or get it laminated.
He said that in case a person wants to get his Aadhaar card laminated or printed on plastic card, he may do so only at authorized Common Service Centres or Aadhaar Permanent Enrolment Centres by paying not more than the prescribed rate, which is not more than Rs 30.
He advised the public that for protection of their privacy they are advised not to share their Aadhaar number or personal details to unauthorized agencies for getting it laminated or printed.