Sanjauli to IGMC opened to all vehicles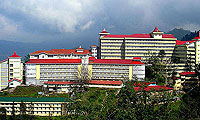 Shimla : Due to demand from public the Himachal Pradesh government on Tuesday decided to open the restricted road from Sanjauli to IGMC gate for all vehicles.
The decision has been taken to facilitate a large number of patients coming to IGMC Shimla from different parts of the state for treatment.
An official of the state said that the amendments had been made in the Shimla Road Users and Pedestrians (Public Safety and Convenience) Act. 2007.
This decision has been welcomed by all sections of people in the hill station.
But the road beyond the IGMC to lower bifurcation of IGMC (Lakkar Bazar) will remain a restricted road.
The road from Auckland House School to Hotel White has also been declared as a sealed route instead of a restricted road.