Langur monkey slapping Shimla residents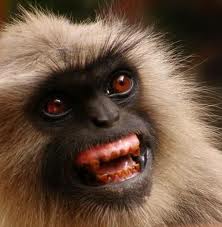 Shimla : A langur monkey has been attacking and frightening away people in the New Shimla area  for the past week or so . So far eleven people have been injured by the simian .
Residents say this rogue monkey is prowling about fearlessly in sector 1 and sector 2 areas of this posh region of Shimla so that residents particularly women and children are wary of the animal .
Fruit and vegetable shopkeepers complain the black-faced monkey leaps into fruit and vegetable shops and leaps out with the food of his choice in a flash .
School children can be seen shrieking as the lone simian chases them into hiding .
With civic elections campaigning going on in the hill station , the monkey attacked a group of campaigners a couple of days .
Residents have complained to the Himachal wildlife department and the DFO has promised action . But it looks like it won't be easy capturing the animal .
Last year a langur had gone berserk in another locality of Shimla .With great difficulty the wildlife officials were able to catch the animal and release it into the wild .
The black-faced langurs are usually docile as compared to the their smaller cousins the red-bottomed monkeys who are far more aggressive and have for generations being troubling Shimlaites .