Gen VK Singh meets Himachal CM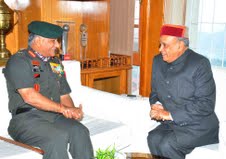 Shimla : General V.K.Singh chief of the army staff called on Himachal Pradesh's chief minister P.K.Dhumal here Tuesday .
A spokesman of the state government said both discussed various matters of strategic importance  including construction of the railway line to Leh below the Rohtang Pass .
The relocation of the Dogra regiment from Faizabad to Una was also discussed . Besides setting up of a canteen stores department (CSD) among other issues .
Since the army chief did not speak to the media it isn't clear what else was discussed at the meeting .
It maybe recalled that last month General Singh had snubbed the state government by refusing to hand over the historic annandale ground to the state government saying the ground would remain with the army due to its strategic importance as a chopper base .
Dhumal's son and MP from Hamirpur Anurag Thakur had sparked of another controversy by leading a signature campaign to take back the ground and build a concrete BCCI ground here .
Locals in large numbers have opposed the move to build a cricket ground at this historic Raj era annandale ground which is surrounded by a thick pine forest .
They say if the ground is handed over to the state government it should be used as a venue for holding public festivals and other sports activities without disturbing the fragile forest which lies at the edge of the ground .
General Singh retires this month .