Kharapathar market yard fails to take-off in Himachal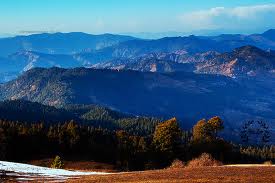 Shimla : Three weeks after the Kahrapathar market complex in the heart of Himachal Pradesh's apple belt was opened with much fanfare it is wearing a deserted look with no activity here .
When the harvest began in July the state's horticulture minister Narinder Bragta and MP Anurag Thakur opened the market yard complex at Kharapathar 78 km from the state capital .
But instead of finding a bustling fruit and vegetable market Sun Post found here only giant cardboard portraits of state chief minister P.K.Dhumal and horticulture minister Bragta staring into the pine forest .
"The government had promised these shops will be immediately leased out to commission agents . But the harvest is already half way through and not a single shop has opened ," complained one farmer .
The market here has been constructed by the agricultural produce market committee (APMC) to cater to apple orchards of Jubbal , Rohru and Kotkhai which accounts for 60 per cent of the state apple producing area .
Farmers are saying the state government should have first completed the formalities of leasing out the shops and then inaugurated it .
"The opening of the market complex in July is only an election stunt as assembly polls are due later this year . Everyone knows that the market will only come into operation next year so why this election stunt ," said one farmer .
Other than apple the market has been built to sell other fruits and vegetables grown in the area .