High silt shuts Himachal power projects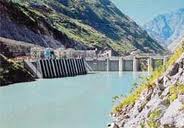 Shimla :Two of India's biggest hydro-power projects located in Himachal Pradesh remained shut for the second day Tuesday causing a major power shortage to the power hungry northern grid.
All the turbines of the country's largest hydro-electric project the Nathpa Jhakri project (1500 MW) are shut , officials said .
The Nathpa project is built on the Sutlej river in tribal Kinnaur and is run by the Sutlej Jal Vidyut Nigam Limited .
Karcham Wangtoo project (1000 MW) project the country's largest hydro-electric project in the private sector is also shut . This is also built on the turbulent Sutlej .
The high silt is being attributed to heavy rainfall upstream and rapid melting of snow in the high mountains .
Some other smaller projects are also affected by the high silt on the river .
The Chamera project 300 MW in the Chamba valley is also closed down due to heavy rain in the Ravi basin .
The weatherman has forecast more rainfall this week which could further raise the silt levels in rivers . High silt can damage the turbines of power projects .
Himachal Pradesh is one of the largest producers of hydro-power in the country .