Kalka-Shimla vintage rail car to be renovated : Indian railways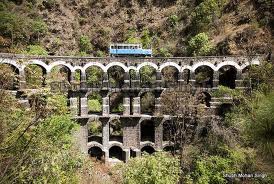 Shimla : Indian railways on Thursday dismissed reports about the closing down the popular vintage rail car plying on the Shimla-Kalka narrow gauge track for the last 85 years .
"Reports about closing down of the rail car for ever is a rumour ," R.K.Tayal , a senior engineer of the Indian railways stationed in Ambala said .
"In the next couple of months we are procuring new steel wheels so that the rail car service is back to normal ," Tayal said .
It is the only rail car in India and one of the very few left in the world. It was introduced by the British in 1927 on this 96 km track .
The 109 year old railway track was given Unesco world heritage status in 2008 .
Trains plying on this route take up to six hours , but the single bogey(car like) rail car takes a little over four hours and is very popular with foreigners .
Rail travel on this route is highly subsidied . The unique rail car journey costs only Rs 249 .
The track rises from Kalka at 2800 feet in the Himalayan foothills and rises to Shimla the erstwhile British summer capital at 7000 feet above sea level .
The winding mountain track passes through spectacular mountain terrain . It has 18 railway stations , 103 tunnels , 869 bridges and 900 curves .