Jai Ram's please all budget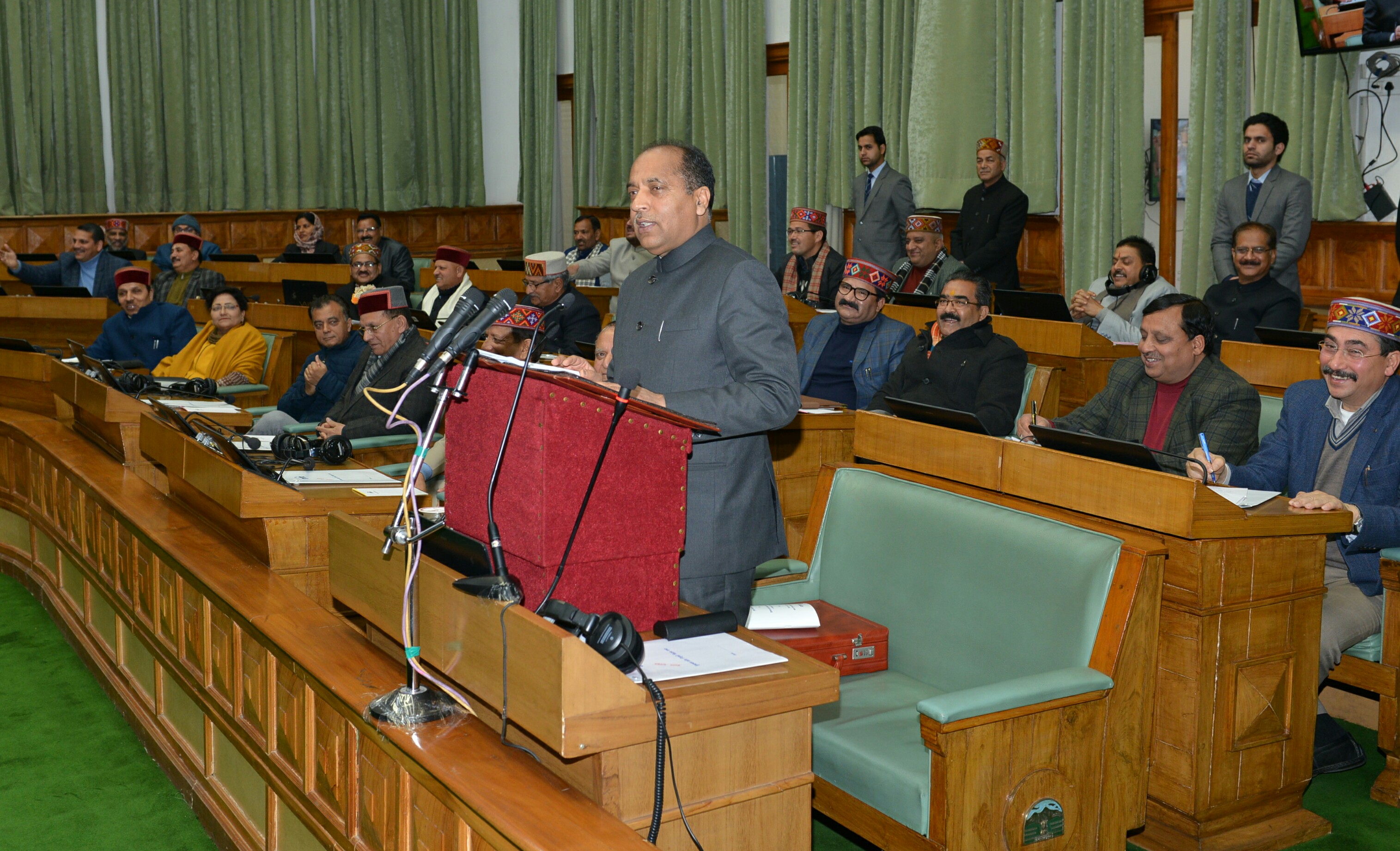 Shimla : Ahead of the Lok Sabha polls Himachal Pradesh chief minister Jai Ram Thakur has presented a budget to please all sections including government employees and farmers on Saturday.
The revenue receipts of 2019-20 are estimated at Rs.33,747 crore, Revenue expenditure is likely to be Rs.36,089 crore and the revenue deficit will be Rs 2,342 crore. The fiscal deficit is estimated at Rs 7,352 crore in 2019-20 which is 4.3% of GSDP. The net borrowing will be Rs 5,069 crore which is within the borrowing limit as per the FRBM Act.
The state government has decided that 10 percent reservation will be provided to economically weaker sections of general category in employment and educational institutions.
The social security pension proposed to be increased from the present Rs.750 to Rs.850 and Rs.1300 to Rs.1,500.  More than 5 lakh persons will be benefited.
One additional LPG refill cylinder will be provided, free of cost,  to  the beneficiaries of Himachal Grihani Suvidha Yojna and Ujjwala Yojna. Two lakh families will be benefited as a result in the next year. For new Ujjwala beneficiaries, State Govt. will bear the cost of  a cylinder, gas stove and gas pipe.
Daily wage increased by Rs 750 per month,  part time wages also will be raised. Honorarium  of  different categories  has also been raised.
Mobile Diagnostic Vans will be introduced to diagnose and prevent breast and cervical cancer.Widows less than 45 years will be provided reservation for admission into Nursing Institutions and ITI's and will  be assisted in upgrading their skills and getting employment. Widows/Deserted  women  to be provided increased child care support of  Rs. 6,000 per child.
The Annual plan of Rs 7100 crore  focuses on increasing  farm productivity, developing rural infrastructure, developing new sources of Irrigation , Flood Control and social services.  
Several Schemes and programmes for farmers announced. These include Rs 150 crore Mukhya Mantri Nutan Polyhouse Yojna, higher budget outlay for Anti Hailnet,   irrigation and flood control schemes, Mukhya Mantri Khumb Vikas Yojna, Subsidy upto Rs. 25,000 on Indigenous cow breeds, Rs 2 per litre increase in milk procurement price etc. Schemes launched in last budget will also be geared up.
 A new Rs 423 crore "Integrated Mushroom Development Project" will be started with external assistance after getting necessary approval from the Government of India.
Breeding farm for Sahiwal and Red Sindhi Cows will be established with a total cost of Rs.11.21 crore and Embryo Transfer Technology will be used for their promotion.
Goats will be provided at a subsidy of 85 percent to the farmers living below poverty line.Better quality breeds of sheep will be imported. A farm for Murrah buffaloes will be set-up at a cost of Rs. 11 crore. One Gokul Gram will be set up in the State.Additional capacity of 50,000 litre per day will be installed in Duttnagar and Chakkar Milk Processing Plants.
26,000 old wooden electricity poles will be replaced with steel poles in rural areas to strengthen rural electrification structure.A new electric vehicle policy will be brought out.
A new tourism policy will be brought out and Master Plan for promoting Eco-Tourism will be prepared. To promote Home Stay, the existing room limit will be increased to 4 rooms instead of 3 rooms.
The State owned Ropeway Corporation RRTDC will conduct pre-feasibility study to establish "Overhead Mass Rapid Transportation System" in Shimla and Manali Towns.
750 kilometres new roads, small bridges and  culverts on 850 kilometres roads, 1,500 kilometres tarred roads and 50 bridges will be constructed which will connect 50 new villages.
Hydel Projects with an installed capacity of 500 MW will be commissioned. These include the 111 MW Sawra-Kuddu and the 100 MW Uhl Hydel Projects in the State Sector. Execution of Chanju-3 and Deothal Chanju hydel projects to be started.
DA to employees and DR to pensioners at the rate of 4 percent will be given from 1st July, 2018.Emoluments of contract employees increased.Emoluments of PTA/Para teachers increased.
Power subsidy of Rs.475 crore will be provided for domestic consumers.