Ice skating begins in warm Shimla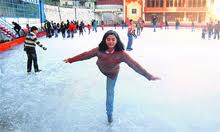 Shimla : Despite the mercury moving up by around five degrees celsius in the last few days ice skating got off to a smooth start this week in Shimla , organisers said .
But media reports are once again full of concerns about changing weather patterns like global warming which is reducing the skating sessions in winter in this natural open air ice skating rink , the oldest in South Asia .
But ice skating enthusiasts here say warm spells in winter are common but why can't the ice skating club be more innovative and organised by holding the annual skating season from November onwards despite weather permitting .
Many old timers not wishing to be named said  the weather is equally cold in November and yet the organisers are not open to freezing the rink in early or mid-November as was the case some decades ago here.
The only spoil sport is a cloud cover which interferes with good ice formation . But clouds usually gather more from late December onwards when it snows here .
But since November to late December it is mostly clear and chilly and ideal for ice formation .
Ice skating was started here by the British in 1920 when Shimla was the summer capital of undivided India .
The open air rink lies in one of the shadiest areas of the hill station . The sun isn't able to enter this arena for much of the winter and so is ideal for ice formation .
Skating takes place in early mornings and in the evenings when the ice is at its hardest and ideal for skaters to glide.
Annual ice skating events take place around Christmas and new year's eve . Besides ice skating club members and other locals even casual skaters like tourists can enter the icy rink can walk in to skate .