Bleak future for Shimla's famed tailoring industry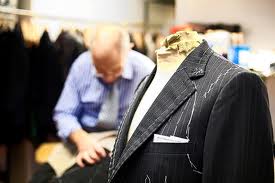 Changing times are taking a toll on the well-known tailoring industry of Shimla due to shortage of skilled manpower . This is threatening the entire industry which has been a leader here since the colonial British era .
Known as the fashion capital for long Shimla is traditionally popular for fine tailor made clothes particularly men's suits and long coats for both the sexes .
But in the last few years the quality of the stitching is going down due to lack of fresh skilled workers in the industry say many here .
"Getting tailors to stitch and assist us after the master tailors have carefully cut the fabric for men's suits is becoming very difficult ,"said  Anil Tahim of Lall Tailors and Drapers, Shimla's best known tailor shop doing business here for three generations .
"This is the busiest season of the year for us due to the marriage season and the onset of winter . But due to an acute shortage of tailors to assist us we have not been able to take up stitching work of all our customers ," Tahim told Sun Post .
The biggest problem is that young people are not getting into tailoring anymore . Those few who do join the trade prefer to get into the readymade clothing industry in big cities where the training and work is quite different .
"What can we do with a tailor from the readymade industry who specialises in only stitching a sleeve of a coat, how do you tell him to stitch an entire coat that is the challenge ,"says Tahim .
Shimla's middle bazaar is still called by many as the tailor street of the hill station . Majority of the shops here still continue to be pursue the tailoring business for ladies and gentleman but few young people are joining the profession of stitching as they did a decade ago.
Shops here complain about this shortage due to which they are often not able to deliver work in time , also the quality of stitched clothes suffers says customers .
Even though many people in Shimla including the young still prefer formal wear .
But they prefer now to pick up a coat , suit or an overcoat immediately from a readymade store on the Mall street here rather than wait for a couple of months before it is stitched after several visits to the tailor.