Now lazy Himachal PWD to repair Shimla VIP road by April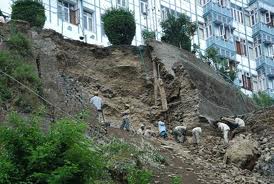 Shimla : Finally after nearly half a year the Himachal Pradesh government has woken up to restoring an important road connecting to downtown Shimla .
But the long delay is likely to continue as the state's chief secretary S Roy has decided to hand over the work of repairing this road to the public works department which is has the reputation as one of the slowest at delivering work in the state .
The government has told the PWD to set a fresh target for repairing the road by April . But many here are wondering why a make-shift bailey bridge hasn't been set up here to ferry light vehicles so that VIP vehicles can ply on this road and avoid getting stuck in the congested road below .
Experts say putting up a bailey bridge takes only a few hours . This damaged road connects the cart road(Shimla's main artery) to the state secretariat , the chief minister's official residence called oak over , us club , richmond and the Himachal high court among other important places.
The shutting down of this road is causing a lot of inconvenience to both locals and tourists as there are many hotels in the area .
In June this year the state government and the civic authorities had allowed a leading contractor to carry out digging work to build lawyers offices at this spot just ahead of the monsoon.
But the first pre-monsoon showers sent the entire hill side sliding down . It even threatened Shimla's most well known heritage hotel the oberoi clarkes located immediately above the road .
Cracks appeared in some parts of the building and its terraced gardens also caved in . The 115 year heritage building was closed down for the entire monsoon and guests were shifted to another oberoi hotel in town .
Chief secretary Roy held a high-level meeting Saturday and also ordered the PWD to build a retaining wall on the rear of the heritage building .
Along with state geologists the site was studied by IIT Roorkee experts .