Snow in Himachal's Narkanda ski resort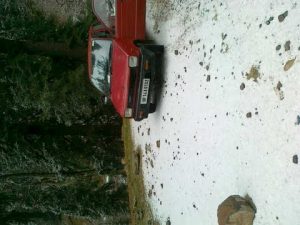 Shimla : Himachal Pradesh's popular ski resort of Narkanda received the season's first snowfall Thursday. The snow was light but enough to cover the entire countryside in a thin white blanket .
Snow also fell in adjoining Baghi , Ganasidhar and Umladwar , all located on the old Hindustan Tibet road in Shimla district's apple belt .
Travellers told Sun Post that traffic continues to ply on the 64 km Shimla-Narkanda road . Shimla recorded a maximum of 13.2 celsius  while Kalpa was 7.2 C Thursday.
The weatherman has forecast wet weather across the entire state on Thursday due to a western disturbance .
The popular resort towns of Shimla and Manali  experienced rain and hail .
The high peaks of Lahaul , Spiti and Kinnaur had snow for the second day . The Rohtang pass also had snow again cutting off the Lahaul valley from the rest of the country .