Himachal roadways bus services not yet normal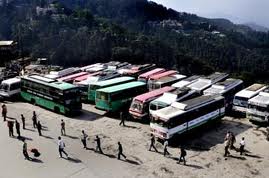 Shimla : After under-working for a week and going on a state-wide strike on Tuesday , Himachal Roadways Transport Corporation (HRTC) have surprisingly not normalised causing further inconvenience to commuters Wednesday .
Travellers have told Sun Post that hundreds of HRTC buses across the state have their tyres deflated by striking roadways staffers .
Most of these buses have not been able to report for work as refilling the flat tyres will take a long .
Commuters have  obviously criticised the striking roadways employees for resorting to deflating of bus tyres.
"On day of complete strike preceded by a week long protest at this rate HRTC will only lose to private operators," a harassed regular bus commuter told Sun Post.
Tuesday's strike was complete crippling services across the state and on routes outside the state .
Even Punjab, Haryana and Chandigarh roadways buses on Himachal roads also joined HRTC striking staffers for a couple of hours as a show of solidarity .
The 9000 strong HRTC staff is demanding converting the corporation into a department so that they become eligible for pension and other benefits .
They are also demanding regularisation of temporary employees after three years of service besides stopping further privatisation of bus routes .
HRTC is the biggest loss making company in the state with accumulated loss of over Rs 570 crore .
But HRTC is also seen as a social service provider with its buses plying in some of th most harsh mountain terrain in the country causing high fuel consumption and heavy wear and tear of vehicles .
Often some of the remotest villages in the hill state are connected by state roadways buses . Private buses often ply on better roads and on profitable routes in and around urban areas .
HRTC runs 2018 buses and mostly on long routes , inter-state routes and in interior parts of the state . While 3200 private buses are mostly run on shorter routes within the state .