Shimla summer festival a big annual nuisance !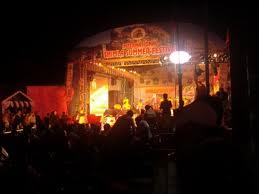 Shimla : Thank god it is over this year .The Shimla summer festival has for long lost its relevance , it is outdated . For the past decade it is only reduced to a big pain one must endure every summer .
Many say the so called festival stands out only for noise , congestion on the Ridge and wasting the tax payers money.
Why is the Himachal Pradesh government carrying on with  this ritual . People are asking the organisers (the Shimla district administration) why they continue with this annual boring tamasha .
Despite the long criticism the organisers have no answer and just continue with it meekly year after year .
Talk to any local or a tourist and they all seem to agree that this festival is an outright nuisance on the Ridge .
This is peak tourist season in town . A time when downtown Ridge and the Mall is seething with visitors .
As if blind to all this the organisers of the event pierce the fragile Ridge and erect a stage at the centre of the ground .
The barricades and ropes push the walker to the edge of the Ridge as if being boxed and cornered by an aggressive opponent in a ring .
There are moments when a rude policeman stops the innocent walker making his way up the Mall to the Ridge .
And then there is the shrieking and yelling on the microphones which starts in the evening and goes on until midnight .
So all the people in downtown Shimla have no choice but to suffer for the next week . But the day the rain comes down and washes away the evening programme everyone seems to be relieved and happy .
But the thick headed district administration doesn't seem to realise this or simply doesn't seem to care .
The organisers perhaps think the world hasn't moved on since the 1970s when some of the greatest singers like Mohammad Rafi and Lata Mangeskar , later Jagjit Singh performed here .
That era is long over but the orgainsers merrily continue to invite playback singers from the Bombay film industry and pay them often a million bucks for a night's show .
Many ask if anybody ever goes to watch the evening live programmes . But for some idle or drunk tourist and local most people stay away from the festival or watch it on local television channels live .
Others say the summer festival can be easily shifted to the ice skating rink or even the annandale ground down the valley so that people on the Mall and the Ridge can breathe easy and heave a sigh of relief !