Himachal readies to fight Lantana weed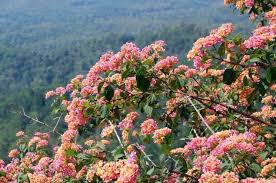 Shimla : A plan was drawn out by the Himachal Pradesh government here Sunday to fight the Lantana obnoxious weed which is fast spreading its roots in the lower hills of the state and destroying fertile land .
 "Lantana is harming both farming and forest lands , besides reducing productivity of land rapidly ,"said a spokesman of the state government here .
 "The state's forest department has decided to take on the problem by planting fruit bearing and other-eco-friendly species of plants in 5000 hectares of land infested by Lantana ," the official said here .
 The government plans to fight the dreaded weed by involving the local population . A target has also been set to bring 20,000 hectares of uncultivable land under forest cover .
 Around two thirds of the state is legally classified under forests .
 According to the latest forest survey of India 3,224 sq km area is under dense forests , while 6381 sq km under moderately dense cover . The rest is under shrubs or barren land .
 The state government claims to have added about 3000 sq km of forest cover since 1991 . In the current fiscal Rs 422 crore has been made to the forest department of which Rs 132 crore has been earmarked for conservation of forests and wild life .