Virbhadra govt fails to act against Anurag Thakur's HPCA : CPM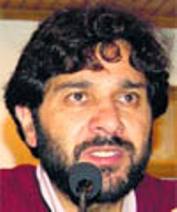 Shimla : The CPM on Sunday slammed the Virbhadra Singh led Congress government in Himachal Pradesh for not exposing the alleged misdeeds of the state cricket association , despite earlier promises .
 "The Congress government has taken no steps in reclaiming the land given to the Himachal Pradesh Cricket Association (HPCA) headed by BJP MP Anurag Thakur ," senior CPM leader Tikender Panwar told reporters here .
 "The government has also failed to claim the long due Rs 2 crore as security charges from the HPCA for holding IPL matches in the Dharamsala cricket stadium ," he said .
 "The nexus between the BJP and the Congress is obvious in cricket . No action by the government has emboldened the HPCA to charge heavy fee for training junior cricketers,"he said .
 "It is clear the Congress has dumped its past threats and statements against the HPCA calling it the youth wing of the BJP and an arena of corporates to invest their black money ," he said .
 "Is awarding of an honorary doctorate degree by Himachal university to IPL chief Rajiv Shukla during the previous BJP regime a reason for this silence ,"asked Panwar .
 The CPM has asked the youth of the state to expose the HPCA , which despite overflowing funds is charging a fee of Rs 5000 each month per player for training in its academies .
 The CPM alleged the HPCA has virtually finished the old practice of holding district level cricket tournaments and selecting talented players .