Tarun Shridhar is secy home Himachal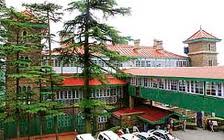 Shimla : Tarun Shridhar IAS has been posted principal secretary home and vigilance by the Himachal Pradesh government here late Monday .
 He will take over from Prem Kumar who retires on 30 April. Shridhar a 1984 batch officer will continue to hold horticulture and fisheries .
 A R Sihag IAS will now be principal secretary panchayati raj , agriculture , food civil supplies and consumer affairs .
 Amandeep Garg who is director national rural health mission now goes as managing director , state civil supplies corporation following the retirement of BM Nanta.
 Garg will continue to hold the additional charge of special secretary revenue-disaster management .
 Sandeep Bhatnagar, special secretary education and technical education also gets the additional charge of the post of settlement officer , Shimla division .
 Amitabh Avasthi HAS special secretary health will also hold the position of mission director , national rural health mission .