Himachal handicrafts corporation record turnover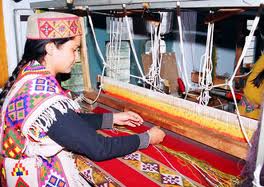 Shimla : Himachal Pradesh's handicrafts and handloom corporation has carried out record business of Rs 19.6 crore during the last fiscal year .
This was stated here Tuesday by the state's chief minister P.K.Dhumal in a review meeting of the state run company here .
He said the rise in sales was mainly due to the organisation of exhibitions , craft melas and buyer seller meets in different parts of the country and overseas as well .
International meets were organised in the United States , Britain  and other European countries .
Dhumal said earnings from exhibitions alone had contributed to the tune of Rs 15.6 crore .
"The company has taken the services of self-help groups and cooperatives of weavers and artisans in the state on the basis of demand ," he said .
"The services of the national institute of fashion technology (NIFT) and the national institute of design (NID) is being taken to improve product designs ," he added .
Lalit Mohan MD , HP handicrafts and handloom corporation placed a detailed account of the business activities before the chief minister .
Mohan said the company had succeeded in meeting its committed liabilities and had started earning profit as well.