Himachal farmers upbeat by FDI in retail , BJP govt gives thumbs down !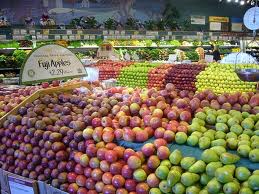 Shimla :  While the P.K.Dhumal led BJP government in Himachal Pradesh is toeing the party's policy and opposing foreign direct investment (FDI) in retail . On the other hand fruit and vegetable farmers across the state have welcomed the move .
The state produces over 1.3 million tonnes of vegetables including off-season vegetables which is in huge demand across northern India .
The hill state also produces a variety of fruits led by apple. Stone fruit include almond, peach, pear , plum and cherry. The entire fruit production in the state in a good year can touch one million tonnes in a year .
But farmers are always worried about timely transportation of their produce and lack of cold stores , particularly cool chains .
"FDI will roll out cool chains that will bring the market closer home, reduce the number of middle men and enhance returns to farmers," Prakash Thakur chairman of the People for Environment Horticulture & Livelihood Himachal Pradesh , a prominent farmers body told Sun Post .
Thakur said a significant part of the fruit and vegetables rots and wastes due to lack of a cool chain system in the hill state , this he says could change .
"Highly perishable fruits like cherry, apricot, peach and plum that have huge demand but unable to tap the market fully due to lack of a cool chain and transport infrastructure . All this should see a boost with opening up of the retail sector for large investments through FDI," Thakur said .
Private companies have started buying apple directly from farmers at their orchards since the past few year .The Gujarat based Adani group has gone a step ahead and set up three centres for buying fruit in the apple belt .
The growing trend of private companies buying the fruit directly from farmers not only fetches better returns but also saves the farmers of transporting their produce and marketing .
This is expected to grow with coming in of FDI in retail and eliminate the middlemen say many .