Himachal CM airlifted from rain ravaged Kinnaur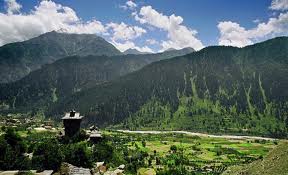 Shimla : A day after monsoon rains wreaked havoc in Himachal Pradesh's remote Kinnaur district the state's chief minister has been moved out of the region as the area remains cut off from the outside world by road . So far ten people have been killed here .
 "Chief Minister Virbhadra Singh and his staff who were stuck in Kinnaur's Sangla valley since Sunday have been airlifted safely Tuesday ," Kinnaur's Deputy Commissioner J M Pathania told Sun Post.
 Over 1500 tourists including many foreigners are stranded all over scenic Kinnaur which borders Tibet .
 "Efforts are being made to re-open blocked roads all over Kinnaur ,"Pathania said .
 There are reports of 75 houses damaged and 18 vehicles washed away due to heavy rains .
State chief secretary S Roy said there are 150 foreigners in Kinnaur .
 The country's largest hydro-electric project the 1500 MW Nathpa Jhakri project and the 1000 MW Karchham Wantoo project the country's largest private hydro-electric project have been shut down due to heavy silt in the Sutlej river .
 With the shutting down of these two projects the power crisis has become grim across power hungry northern India as they feed the northern grid.