10 dead : Record breaking rain in Himachal's Kalpa & Paonta
Shimla : Heavy rainfall in tribal Kinnaur district has triggered deadly landslides killing ten people in this tribal district at many places .
 The weather office here said Kalpa in Kinnaur received 202 mm of rainfall in the last 24 hours this is the highest ever in June here , the previous highest in June was 73 mm.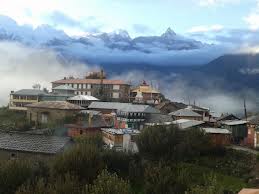 Paonta Sahib a town to the south of Himachal recorded 405 mm rain the highest in 24 hours in June the previous highest was 98 mm in 1980 here

 The weather office said till June 17 Himachal Pradesh has received almost 300 per cent excess rainfall .
 Kinnaur is the biggest surprise which recorded 270 mm in June so far which is a whopping 1230 per cent more than normal .
 The weatherman says rain or thundershowers will occur during the next 24 hours and then decrease in the coming days .