Monsoon fury brings snow to Himachal , 9 feared dead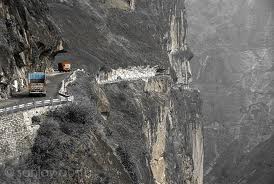 Shimla : Four people were killed in rain related incidents in Himachal Pradesh's Kinnaur district and five others feared dead in the region which has been having heavy rain since the weekend. The high mountains are having heavy snowfall , police said Monday .
 "Four people were killed in three separate rain incidents of landslides ,"Kinnaur police chief G Shiva said by phone .
 "A family of five, including three children were feared buried alive when boulders and mud fell on to a house Chagaon village of Kinnaur ," Shiva told Sun Post .
 "The family was asleep when the massive landslide struck their house. Rescue teams are on way to the spot , but villagers say there is only a minimal chance of anybody surviving" Shiva said .
 Chagaon village is close to the Hindustan Tibet highway and is some 230 km from the state capital Shimla.
 Remote Kinnaur has been experiencing heavy rain and snowfall since the weekend .
 The monsoon arrived in the hill state a fortnight early .
 The high mountain Chitkul area of Kinnaur(Sangla valley) which borders Tibet has been experiencing heavy snowfall in high summer .
 "Thousands of sheep along with dozens of shepherds are stuck in the high pastures overlooking Chitkul ,"said Mukesh Negi , the village headman .
 "Chitkul village is under two feet of snow .Snowfall of this scale is very unusual in summer in this area ,"Negi said .
 Tribal Kinnaur remains cut off from the rest of the world due to landslides triggered by heavy rain .
 Hundreds of tourists many of them foreigners remain stuck in many parts of scenic Kinnaur .