Monsoon brings chill to Himachal ,Snow to Kinnaur , Kalpa 9 C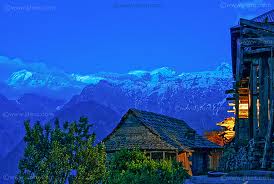 Shimla : The early arrival of the monsoon has not only surprised the hill folk in Himachal Pradesh but also brought the chill in the highlands .
Kalpa in tribal Kinnaur had heavy rain , the village recorded a high of barely 9 C Sunday , eleven degrees below normal .
Reports said the highlands overlooking Chitkul , Rakcham in Kinnaur have experienced unseasonal heavy snowfall. Thousands of sheep are stuck in the summer pastures here .
 The state capital Shimla saw the sun late in the evening , the high here was 20 C . Neighbouring Solan was 21 C.
 Dharamsala the seat of the Dalai Lama recorded a maximum of 25.4 C . While Una bordering Punjab had a high of 33.6 .
 The weather office here said in the first half of June Himachal Pradesh this time has already received its quota of rain for this month .
 The monsoon is yet to hit neighbouring Punjab , Haryana and Delhi .