Himachal babus sell 5000 files as trash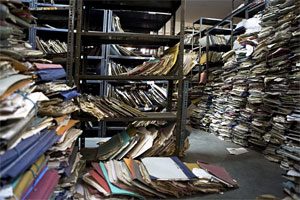 Shimla: This episode is right out of a Franz Kafka novel. In a bizarre incident a record keeper and a watcman(chowkidar) of the Himachal state administrative tribunal office here allegedly sold 5370 files and a dozen registers as trash(raddi).
This has come to light after an internal inquiry.On Friday a FIR has also been lodged at the Chotta Shimla police station.
Police has now started investigating the matter.
The state administrative tribunal looks into service matters of state government employees.