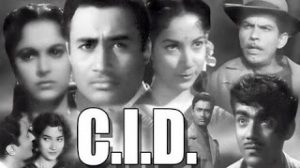 A crime thriller of the mid fifties CID is a gripping film starring a serious Dev Anand opposite Shakila. And a very young Waheeda Rehman playing in her first Hindi film.
Produced by Guru Dutt who had already decided to cast her in Pyasa. He offered Waheeda this role to prepare her for a much bigger role in Pyasa. Guru Dutt hired Raj Khosla to direct the film.
There is Johnny Walker with his lighter moments singing the unforgettable "Ai Dil Hai Mushkil Jeena Yahan, ye hai Bombay ______meri jaan"
Then there is K N Singh the ultimate actor of mystery films of the golden era.But plays as a top cop.
Music is by O P Nayyar. Lyrics by Jaan Isaar Akhtar and Majrooh Sultanpuri.
Other songs in the film are Boojh Mera Kya Naam Re"
"Leke Pahela Pahela Pyar"."Ankhon Hi Ankhon Mein Ishara Ho Gaya".
"Kahin Pe Nigahen Kahin Pe Nishana". While Geeta Dutt's "Jata Kanhan Hai Diwane" was cut by the censors. But yet the song is popular 60 years after the film was released.