Marathon 205 minute long budget speech by Virbhadra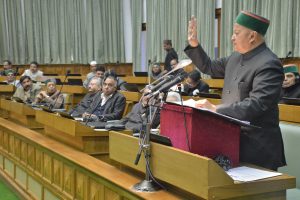 Shimla: It was the usual dull tax free Himachal budget yet again.With the usual right noises for all sections here Tuesday.
Out of every 100 rupees spent, salaries will account for almost Rs 29, pensions Rs 13.Interest payments over Rs 10.Loan repayments close to Rs 7.The remaining Rs 43 will be spent on development works.
But the highlight of chief minister's speech was his speech which went on for a whopping 3 hours and 25 minutes.
And all the while the 82 year old six time chief minister remained standing.
It was in English and broadcast on All India Radio live. The speech took so long despite the reducing of the text by 16,000 words this time.
While Virbhadra's last year's speech was the longest ever in the history of the Himachal Vidhan Sabha.This year's speech was almost as long and the second longest in the history of the Vidhan Sabha.