1800 pahari musicians perform at Mandi Shivratri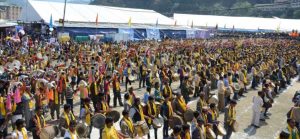 Shimla: Around 1800 pahari musicians played together during the ongoing Mandi Shivratri festival Thursday setting a record in Himachal Pradesh.
They were playing a variety of traditional instruments including the karnal, narsingh,dhol,dhoki,thali, shehnai among others.
They all gathered at the Paddal ground as thousands looked on.
These musicians accompany around 200 devtas(deities) who gather here every year from across Mandi district.They make this journey for the annual Shivratri fair in Mandi town which lies at the edge of the Beas.