6 missing students rescued in the Kullu mountains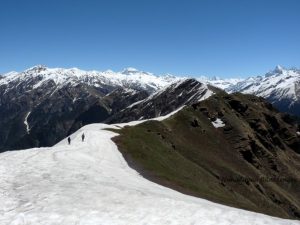 Shimla : Six of the eight trekkers who have been missing in the snow covered Himalayas in Himachal Pradesh have been rescued, a top official said Sunday.
"Six of the eight men have been airlifted by helicopter to Rumsu village near Naggar in the Kullu valley," Hans Raj Chauhan, deputy commissioner Kullu said by phone from Kullu.
"They are out of danger and have been given food and some medicines.The remaining two men are stranded in a cave below the 3600 m high Chanderkhani pass. Once the weather clears we will try to rescue them also," Chauhan said.
The eight men were trekking and went missing since early Thursday due to bad weather and snowfall. No contact could be made with them since Friday. All are engineering college students in neighbouring Punjab's Sangrur.
Many rescue teams were trying to find them since the last two days. Air sorties have also been going on.
The higher hills of Himachal Pradesh has been receiving heavy snowfall since the past two days.