8 missing trekkers rescued in Himachal's Kullu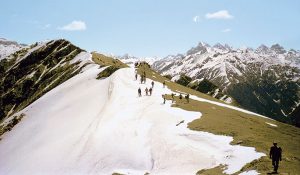 Shimla : All the eight trekkers who were missing for the past three days in the snow covered Kullu valley in Himachal Pradesh have been rescued, a top official said Monday.
"The remaining two stranded trekkers have been airlifted Monday morning by helicopter to Manali," Hans Raj Chauhan, deputy commissioner Kullu said by phone from Kullu some 250 km from here.
"Six other people with them were rescued on Sunday but we could not airlift all due to bad weather. The remaining two spent the night in a cave below the 3600 m high Chanderkhani pass in the Kullu valley," he said.
All of them are engineering students from Punjab's Sangrur. They set out on a trek on Thursday but soon after the weather turned bad and it began snowing. Since Friday there was no contact with them.
Several rescue teams were looking for them besides air sorties. They were spotted on Sunday evening.
One of the men Chetan Chori said,"Due to bad weather we got lost. We ran out of food and I even lost my shoes. We were lucky to find refuge in a cave from where we heard the helicopter on Sunday and waved."
Officials said all the men are safe and are receiving medical attention and food.