Himachal & army settle Shimla annandale ground row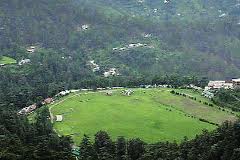 Shimla : It looks like the scenic and sprawling annandale ground in Shimla will continue to remain a green patch as it has since the Raj days instead of being converted into a BCCI concrete stadium .
After the meeting of the GOC western command Sanjiv Chachra and Himachal chief minister Virbhadra Singh here Monday the two settled the matter of the majestic annandale which is the biggest ground in this hill station .
The army says it needs the ground for operations of army along the northern borders and for unforeseen disasters relief operations .
Chief minister Singh said the state government was in agreement and necessary directions will be given to withdraw arbitrary proceedings in this matter .
"The state government has decided to keep the annandale ground with the Indian army in national interest.""
Singh assured the army commander that status quo would be maintained on the this issue which led to a face-off between the previous BJP regime and the army .
The outgoing BJP government led by P.K.Dhumal had reportedly asked the army to vacate the ground and hand it back to the state government .
But green activists moved in and opposed this move bitterly saying by doing so Dhumal was planning to hand over the ground to the Himachal Pradesh Cricket Association(HPCA).
The HPCA is led by Dhumal's MP son Anurag Thakur who was for building a huge BCCI stadium here .
Locals and green activists had said if the army hands back the ground to the state government they wanted to maintain the thick pine forest around the ground rather than destroy it to create a cricket stadium .
There have also been reports of certain people buying land in the around the ground despite the forest so that the stadium can be built here .
During the colonial British era the ground was a haunt of the Anglo-Indian playful activities , amusements and entertainments since the 1830s .
It was a place for picnic parties , fetes , fancy fairs , races and polo matches and other sports activities .
The Durand cup football was started at annandale in 1888 and was later shifted to Calcutta .