Arun Sharma is Director revenue training institute Jogindernagar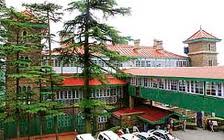 Shimla : Controversial Himachal IAS officer and long-time PS of ex-chief minister P.K.Dhumal , Arun Sharma late Monday was posted director revenue training institute , Jogindernagar .
Sources say this is seen as a highly insignificant posting . In all 11 IAS officers and 59 HAS officers have been transferred .
Before the polls late last year the election commission had ordered the state government to shift Sharma from the sensitive post of deputy commissioner Shimla following complaints by the Congress party and by a noted RTI activist to the poll panel .
Ever since the Congress came to power in the state in the last week of December , Sharma had immediately been shifted as director tourism and was without any posting .
Another IAS officer seen as very close to the Dhumal government Ajay Mittal (additional chief secretary) has been shifted to labour employment
Transport has been taken away from Mittal and given to PC Dhiman . Addl chief secy P Mitra now gets revenue and UD , TCP , housing and fisheries .
Pr secy A R Sihag has been given  RD , panchayati raj and agriculture . Jagdish Sharma is the new director HPMC.
Bharat Khera , secy GAD and SAD will hold the additional charge of divisional commissioner Shimla . R S Gupta goes as commissioner departmental enquiries .
Amar Singh Rathore has been posted as special secy IT . Purnima Chauhan goes as director HIPA .
Vikas Labroo is the new director urban development . Balbir Chand Badalia has been made director food , civil supplies .
Madan Chauhan is the new MD state coop bank and Amit Kashyap has been made director Ayurveda . Lokender Singh Chauhan has been posted as special secy PWD .
Naresh Kumar Lath is the new ADC Shimla  while Sumit Khimta goes as registrar HP university .