Return of Dalrymple : story of colonial Britain's most humiliating defeat : Review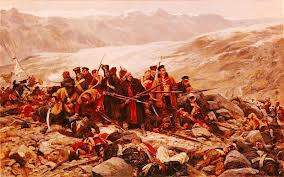 William Dalrymple is a unique writer for he has written the history of the sub-continent like nobody else .
This Scot who has made India his home for almost thirty years now has put to shame our dull and boring historians. After he wrote The Last Mughal , Khushwant Singh said, "Dalrymple shows the way history should be written."
To me his history books shine with life and so does the prose. But above all Dalrymple's history books read like literature .
Return of a King , the battle for Afghanistan is part of the trilogy which began with White Mughals followed by The Last Mughal and now Return of a King which took him six years to research and write .
Amazingly these three big books cover barely fifty years of Indian history with many characters crisscrossing in the all the three books .
Dalrymple's books sell widely , but I suspect this book will  sell more than his previous two books because unlike his earlier books this account of Afghanistan will appeal to a far bigger audience .
With the NATO forces in this country for over twelve years now . This being America's longest foreign war in history it is bound to attract readers world wide .
Until now we have heard of the first Anglo-Afghan war (1839-42)account only from western sources .
But Dalrymple makes this war story special by extensively researching the Afghan , Persian and Indian sources . He balances the war story which led to Great Britain's most humiliating defeat ever at a time when the empire was at its peak.
Sitting in the Raj summercapital of Shimla (then Simla) Auckland made the grievous judgment of ordering 18,000 troops to march and take over Afghanistan !
Two years later ,  these soldiers who were British , Biharis, Bengalis and Lucknavis were butchered and slaughtered by the Afghans . Just one man made it back to India !
Britain's crushing and humiliating defeat at the hands of one of the poorest countries in the world .  Like many others the British made the error of dismissing the Afghans as primitive people who did not have the means to stop them .
Dalrymple says the world continues to make this mistake.  First it was the British who got a pasting , next were the Russians and now it is the Americans with its allies from across Europe to Australia and Turkey .
As one Afghan tells Dalrymple , "In truth , all the Americans here know their game is over. It is just their politicians who deny this."
"These are the last days of the Americans," said the other elder , "Next , it will be China."