New look vintage rail car back on Kalka-Shimla track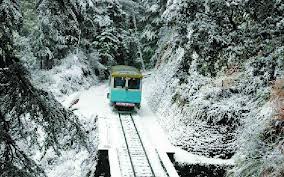 After a gap of half a year the rare single bogey vintage rail car is back on the winding Kalka-Shimla railway mountain track which is also a UNESCO world heritage site .
"After six months the rail motor car is plying again daily on the 96 km Kalka-Shimla rail track since Jan 22 ," said Vinay Arora , railway station master at Kalka located in the Himalayan foothills .
The rail car looks like a world war II era bus the only one in India and one of the very few left in the world and is particularly popular with westerners .
Railway officials say ever since it is back it has already been booked several days in advance .
"The rail car leaves Kalka at 5:10 am and returns at 4:25 pm from Shimla . One way ticket costs Rs 255 ,"said Arora.
Since very few rail cars operate in the world the Indian railways finds it hard to procure spare parts to repair this  locomotive which runs on 16 wheels .
"Not only were the wheels changed but also the 12 seats as well," said Arora .
The rail car was introduced by the British on this track in 1927 . In 1908 the 109 year old track was given world heritage status .
Trains chug on slowly on this route and the journey takes almost 6 hours while it takes only two and a half hours by road .
The rail car though is a bit faster and takes four and a half hours .
The rail track rises from Kalka at 2800 feet in the Himalayan foothills and rises to Shimla the erstwhile summer capital at 7000 feet above sea level.
The winding mountain track passes through spectacular mountain terrain . You can count 18 railway stations , 103 tunnels  , 869 bridges and 900 sharp curves .
Paul Theroux the best selling travel writer rode the rail car in the mid 1970s while writing his famous book The Great Railway Bazaar .