Himachal apple box size to be standardised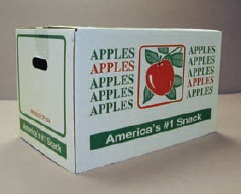 A long standing demand of the Himachal Pradesh apple farmers may soon be fulfilled with the designing of a new apple carton matching the standard international carton size .
Sources in the state horticulture department say a team from the Indian Institute of Packaging(IIP) from Mumbai has just finished a visit to the state and met farmers among others to design a carton .
Currently the height of the cartons available in the market can be be increased and more fruit packed into them.
Wholesale buyers who transport and sell the fruit all over the country put pressure on farmers to increase the weight of a carton from 20 kg to around 30 kg as it is cheaper to ship the produce . But farmers say this causes  losses.
Sources say The IIP designers are now working on a plan to design a carton which will have fixed height so that only 20 kg fruit can be packed into them.
Once apple is picked from trees it is graded on the basis of size and colour . For many years buyers have also been asking farmers to pack much bigger size fruit which increases the weight of the carton and results in losses to growers .
State director of APEDA Prakash Thakur says the purpose of designing new cartons is to ensure that only 20 kg of fruit fits into a carton of standard size which matches international standards.
The state government has sought the help of the Agricultural and Processed Food Products Export Development Authority(APEDA) which in turn has hired IIP Mumbai to design a standard carton for Himachal apple .