Heavy rains kill 18 in Himachal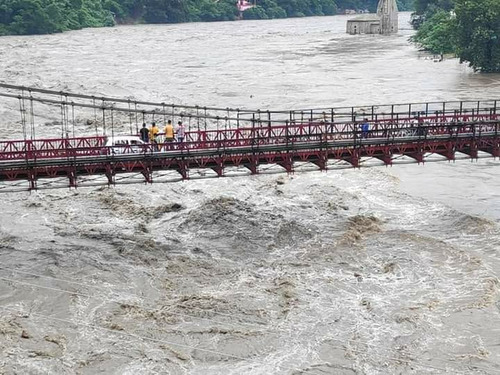 Shimla :Heavy monsoon rains lashed Himachal Pradesh causing widespread damage to roads,bridges and houses in the state besides leaving at least eighteen people dead on Sunday.
A state government spokesman said, "Eighteen people have died due to heavy rains across the state including 5 women and 3 children in seven districts."
Around 400 roads have been blocked across the mountainous state. All Himalayan rivers are in spate. In many places the flooded rivers have cut into adjoining hillsides and highways and even swept away houses.
Videos shared on social media showed raging muddy rivers bringing down uprooted giant trees and even cars at some places.
There are reports of houses collapsing.
Schools and other educational institutions have been closed on Monday in the worst affected districts.
The weather office chief Manmohan Singh said,'In the last 24 hours(till Sunday morning) the temple town of Naina Devi received 360mm of rain while Rohru received 230 mm and the state capital Shimla received 153 mm)."
The weatherman had issued a warning for Saturday and Sunday but added the monsoon rains will ease from Monday.