Governor Dev Vrat's speech breaks 'At Home' tradition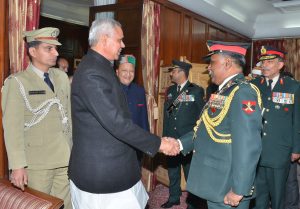 Shimla: Himachal Pradesh's governor Acharaya Dev Vrat surprised everyone here Tuesday at the Republic Day 'At Home' function get together in Raj Bhawan by breaking tradition and delivering a speech for the first time by a governor.
The speech was also laced with the RSS ideology invoking India's grand past and pthe repeated foreign invasions over thousands of years.
The ceremony at the governor's house is a quiet and brief where the elite of the town are invited. No speech is ever delivered nor any cultural programme organised.
The event is usually marked by exchanging pleasantries over tea and snacks. It ends in about half an hour.
But today's ceremony lasted thrice as long. Marked by patriotic songs and a long speech by governor Dev Vrat.
Many felt the speech had shades of the RSS ideology.Others wondered why the governor chose such an occasion to air his views.
A retired state government officer who has been attending 'At Home' for decades said he has never heard a governor deliver a speech on the occasion.
Chief Minister Virbhadra Singh was also present along with top state government officials and people from other sections of society.
Governor Devrrat, 57, took over his new job in August last year. He is an arya samaj pracharak and was principal of a gurukul in Haryana's Kurukshetra.
The relatively young first time governor has shown a lot of energy in the affairs of the state including the prevalence of drug abuse.He has hauled up officers on several issues including the recent jaundice outbreak in the state capital due to dirty water.
Barnes Court is a colonial era impressive heritage monument and houses the governor's house(raj bhawan) located at a commanding location in east Shimla overlooking the scenic surrounding hills.