Ultimate nightmare toilet water in your tap!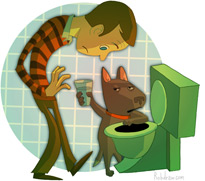 A tourist sitting in Delhi or Bombay cannot be blamed for imagining Shimla to be a paradise in the Himalayas.
Stunning mountain views, bubbling milky white streams flowing among the deodars.
But this sweet dream has a bad ending as it ends with a nightmare. As he finds himself drinking toilet water and wakes up with a jolt. It hits even harder as he discovers the nightmare is real, his tap water for long indeed contains toilet water.
For weeks, maybe months, who knows years a third of Shimla's drinking water supply, at least 2 million litres has sewerage flowing directly into it say civic officials.
This is then mixed with 5 million litres ordinary water and supplied to many parts of the hill station.
Since the past couple of months this water has been very dense and toxic and infecting people.For weeks many are reporting ill. Everyday scores of people are down with jaundice.
But the number is far bigger as the government is releasing figures of those who report ill in government hospitals.Many more are carrying out tests in private laboratories and going home to rest and recover from the disease.
A large number of people are not going to doctors, but to medieval mantra reciting medicine men who claim to treat this deadly disease by the chanting of a few mantras. This is shocking despite Himachal having the highest literacy rates in the country.
So thousands are probably striken with jaundice in Shimla.Media reports say five people have died but the state government disputes this.
As the number mounts day after day the government is just about slowly waking up to this epidemic like crisis.A police probe has been ordered.The health minister and chief secretary are finally holding the usual meetings and issuing press releases saying all must get together and fight jaundice.
The state chief minister Virbhadra Singh has been underplaying the crisis.He has been touring lower Himachal for a while, busy holding his usual public meetings and countless foundation stone laying ceremonies.
The opposition BJP is only reacting in fits and bursts and then going into silence.It appears confused as the sewerage infected water was being supplied during its rule also.
But the most disappointing has been the response of the public and civil society. Even though they are being supplied toilet water there have been no protests, not even a whimper!
Meanwhile over three weeks after the Ashwani khud infected water supply was stopped and cleaned.Water tests carried out a couple of days ago show it still continues to be unfit for drinking.
So bad is the water that despite travelling 30 km downstream to Solan it continues to remain filthy. And now we have people falling ill in Solan.
The coming days are important.It remains to be seen if the guilty will be punished. And will Shimla's all water sources be cleaned as people come here from all over the world to drink its water!