Governor confers 310 degrees, 55 medals at Himachal Tech Univ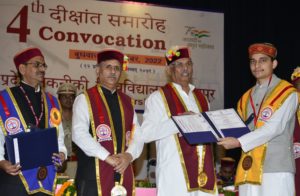 Shimla Himachal Pradesh Governor Rajendra Vishwanath Arlekar conferred 310 degrees and 55 medals during the fourth convocation of the Himachal Pradesh Technical University in Hamirpur today. As many as 32 students were conferred with gold medals and 23 with silver medals.
Congratulating all the degree holders, the Governor said that they need to consider the circumstances under which they have obtained the degree.  We have to draw a line for our future perspective, he added. He appealed to the youth to think differently and take risks and this factor would propel him towards prosperity.
Arlekar said the direction, in which the young generation thinks today, was the future of the country.  He said that the one who sets an example in the society after facing all the adversity was a successful person in the true sense.  So, courage was needed more than a degree and courage developed from different thinking.
He called upon the youth to work for the society. "No business is good or bad, the need is to be a good person", he said.  He appealed to the degree holders to be good human beings first and this belief they need to carry with them.