Himachal, Centre pact for making AIIMS an apex body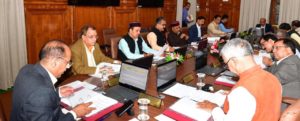 Shimla: The Himachal Pradesh cabinet today gave its approval to draft MOU between the state government and central government and for making AIIMS to act as an Apex Body for Medical Education and Research.
And to act as Nodal Institution for providing specialty and super specialty levels of Health Care, to act as an Training Center for Doctors, Nurses and Health Workers, providing  Medical and Para Medical courses both at Undergraduate and Postgraduate levels and for conducting International and National level Conferences and to provide a place for achieving excellence in Medical field.
The Cabinet decided to upgrade Government High Schools Kholi, Thakurdwara and Bandal in Kangra district and Government High Schools Chong and Shat in Kullu to Government Senior Secondary Schools and Government Middle schools Tandi, Pashi, Tinder and Mashna in Kullu district.
GMS Dhamer in Kangra district and Government Middle School Devidarh in Mandi district to Government High schools. It decided to upgrade Government Primary Schools Okhali, Tikki and Bharechinal in Mandi district to Government Middle Schools along with creation and filling up to requisite posts. 
The Cabinet granted permission for relaxation in sloping roof from 2.7 mtr to 6 mtr i.e. 3.25 mtr for proposed building of bus stand at Dhalli in Shimla district.
It decided to open eight 50 bedded Critical Care Blocks  at RPGMC Tanda, SLBSGMC Mandi, RKGMC Hamirpur, AIMS Chamiyana Shimla.
Regional Hospital UNA Regional Hospital Solan, JLNGMC Chamba, and Civil Hospital Manali and three District Integrated Public Health Labs at Zonal Hospital Dharamshala, DDU Zonal Hospital Shimla and Zonal Hospital Mandi under PM Ayushman Bharat Infrastructure Mission.