Don't allow IPL matches in Himachal : CPM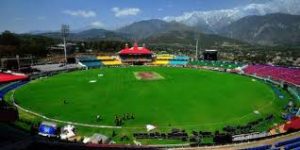 Shimla : Until the IPL pays up all long-standing dues to the Himachal Pradesh government no IPL matches should be allowed in the hill state , the CPM warned here Monday .
"First pay up Rs 2 crore to the state as police security charges and only then should IPL matches be allowed in Dharamsala," said Tikender Panwar , senior CPM leader .
"The IPL is a money making machine and not offering charity so why doesn't the HPCA(a state wing of BCCI) pay up the money due for security cover in the previous matches held in Dharamsala,"Panwar said .
The CPM has also demanded the ruling Congress government to acquire the land allotted by the previous BJP government to the HPCA for the construction of a five star hotel in Dharamsala .
"It is a shame that the previous government bypassed all laws and allotted such prime land from the village pool to cricket speculators ,"he said .
"The supreme court in May 2011 has categorically said , the transfer of village community land for private and commercial use as illegal and directed the states to take immediate steps to evict encroachers ," Panwar said .
This ruling came after a PIL was filed by Khatri Ram from Sirmaur district of the state .
"The court has also observed the state governments must prepare schemes for eviction of illegal occupants of village community land and restore them back." He further quoted the judgment .
The CPM has asked the state government to act in the light of the apex court judgment .
"It is intriguing why the Congress government in the state has not taken prompt action against the HPCA as swiftly as it did in the case of Baba Ram Dev's land which it took over some weeks ago in Solan district ,"Panwar said .
The CPM has also charged both the BJP and the Congress for being in hand and glove and slyly awarding a doctorate degree to Congress leader and IPL chairman Rajiv Shukla by the Himachal university during the previous BJP regime.