Hailstorm withers away Himachal stone fruit flowers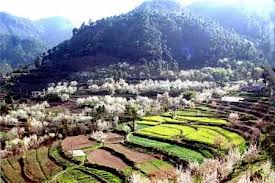 Shimla : A day after strong winds , hail , rain and lightening lashed Himachal Pradesh's orchards growing plums , cherries , peaches , apricots , pears and almonds farmers are assessing their damage at a delicate time .
The stone fruit orchards in Solan district besides other areas in the state are in full bloom and the rough weather may have caused some damage to the tender flowers .
Local newspaper reports said a fifth of the prospective crop may have been damaged in Solan district which accounts for bulk of the state's stone fruit production .
Strong winds also buffeted other parts of the state blowing away rooftops at many places and with reports of lightening striking at some places . The higher reaches of the state received a fresh spell of snowfall .
Shimla recorded a minimum temperature of 5.7 celsius and a maximum of 18.2 C . While Keylong the headquarters of tribal Lahaul & Spiti district recorded a low of minus of 6.2 C .
The weatherman has forecast more wet weather later in the week around holi even though it was mostly sunny Monday .
But Sunday's hailstorm has not damaged apple orchards which have not started blooming yet as they lie in higher areas as compared to stone fruit orchards .