Dhumal favoured Satpal Jain at cost of Himachal exchequer : HLP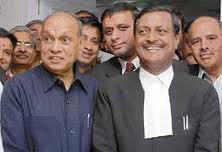 Shimla : The Himachal Lokhit Party(HLP) on Sunday launched a fresh attack on the PK Dhumal led BJP government in the state accusing him of giving special favours to a senior lawyer who is convenor the BJP's central legal cell .
"RTI has revealed documentary details about 21 legal cases for which Satpal Jain of Chandigarh has been hired by the state government . Jain until recently was incharge of the Himachal unit of the BJP and is now the party's legal cell convenor," said Maheshwar Singh , president of the HLP .
"The information is an eye-opener , as Jain has charged a steep fee of Rs 110,000 per day hearing ," he told reporters after distributing copies of the RTI in this matter.
"Jain has charged Rs 75,000 and Rs 55,000 per day per hearing in the high court . He has been paid Rs 763,175 for just one case ," he added .
"There are several highly competent lawyers within the state including the advocate general , 8 additional advocate generals , 8 deputy advocate generals and 4 assistant advocate generals ," Singh said .
"But why has chief minister Dhumal gone out of the way to oblige Jain at the cost of the state's exchequer ," said Mohinder Sofat , spokesman of the HLP .
"Not only have certain bills found to be inflated surprisingly some of the BJP's bills have been paid by the state vigilance department ," Sofat said .
The HLP is a breakway party of the BJP and was formed some three months ago . The party sees itself has the third alternative in the hill state and has been constantly been accusing the Dhumal led government of promiting corruption .