Invite Himachal deities to attend Kullu Dussehra : Court !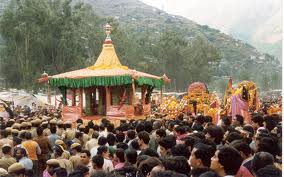 Shimla : The organisers of the famed Kullu Dussehra have been directed by the Himachal Pradesh court to allow two deities to take part in the centuries old annual festival .
Shringa Rishi and Balu Nag had moved the court through their priests saying they were not being invited to take part in the gathering of deities since 2010 .
The order of judge DD Sud was released to the media here Saturday .
Since 1637 the week-long Kullu Dussehra festival is held on the banks of the Beas river in Kullu town with hundreds of village deities gathering to pay homage to Lord Raghunath, the chief deity of the valley .
The organisers of the festival invite some 250 deities each year , but Shringa Rishi and Balu Nag of late were not being sent invitations by the state government .
The feud arose among followers over Balu Nag who flanks Raghunath's right side as he is considered his brother by believers .
Besides locals the exotic Kullu Dussehra attracts visitors from across the world .