Bad Himachal roads cause of accidents : Transport minister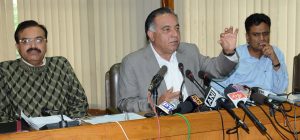 Shimla :A couple of days after a bus accident killed 21 people in Himachal Pradesh the state's transport minister G S Bali said Thursday the poor condition of roads was also to be blamed .
After returning from the accident site in Bastanpur area of Shimla district Bali told reporters here that the spot was very narrow with no parapet to protect if two vehicles passed by.
"The bus driver was experienced and a local.The ill fated bus had travelled 3.63 lakh km. The gear box suggests the bus was in second gear when it rolled down the gorge," he explained.
"Even though an inquiry has been ordered it is clear that the road was narrow with no parapet.Added to this was poor visibility due to fog which probably led to the tragedy," Bali said.
"The state's PWD department has already been told several times to make accident prone black spots all over the state safer," he said.
"I have also written to the union surface transport minister Nitin Gadkari to make roads above 4000 feet safer. As these roads were mostly narrow and traffic was also growing on these winding roads," he said.
"Himachal has suggested to the Centre that all roads above 4000 feet should have crash barriers installed to make them safer," he said.
The state is also taking help from the Central Road Research Institute (CRRI) to make roads safer.
Giving figures of road accidents in the last five years. He said each year around 3000 road accidents were reported killing about 1100 people and injuring over 5000 people.