School bus plunge in Brockhurst , Shimla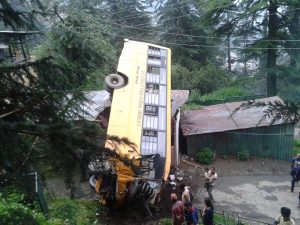 Shimla : A major tragedy was averted when a school bus fell off the road in Shimla's Old Brockhurst area early Friday, the lone man in the bus the driver was injured .
The Chalet Day school bus was on its way to fetch students to school when the accident took place.
It was travelling downhill from Chota Shimla, and at the Brockhurst cross roads the driver lost control reportedly due to the brakes failing.
The mini bus first scraped a giant deodar tree at Brockhurst crossroads and its windshield went flying on to the road.
Then it hit the railing and plunged onto the roof of a single storey house. No one was injured in the house.
The bus fell in a very densely populated area where children of the neighbourhood are often playing and passersby walking past.
Himachal has seen a spate of road accidents for the past few days. The most notable has been the state roadways bus accident in the Basanpur area three days which left 21 people dead.