Anarkali : That early classic of hindi cinema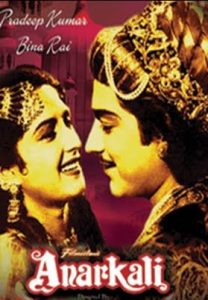 I think the ending of Anarkali(released in 1953 and inspired by the legend of the slave girl Anarkali )was far more tragic and far more realistic than Mughl-e-Azam which was released seven year later .
But Pradeep Kumar as Salim was disappointing . Very raw and unsure as an actor . But this film shaped him for the many princely roles which would come his way later .
Salim's character in Anarkali is a world away from Dilip Kumar's Salim in Mughl-e-Azam . Salim in Anarkali appears meek and hardly the prince rebel against his father Akbar the Great .
Bina Rai with her classic smile in Anarkali is far more convincing as she plays the central character of the film .
The songs are some of the most memorable of the 1950s .
Yeh Zindagai Usiki Hai, Aaja Ab to Aaja, Mujhse Mat Poochh , Mohabbat Aise Dhadkan Hai , O Asman Wale Shikwa Hai Zindagi Ka (all by Lata Mangeshkar).
Aa Jaane Wafa (Geeta Dutt) , Zindagi Pyar Ki Do Char Garhi Hoti Hai (Hemant Kumar ) and Jaag Dard-E-Ishq Jaag (Lata & Hemant ).