Cars entering Shimla to pay green tax from Sept 15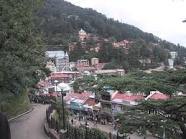 Shimla : After postponing the imposition of the green tax decision twice this year , it will finally come into force from Sept 15 this year as all non Himachal registered vehicles , an official said Tuesday .
Now cars and jeeps will have to pay Rs 200 to enter Shimla . MUVs , like Tata Sumo, Safari , Bolero , Scorpio , maxi cabs , trucks and buses will have to cough up Rs 500 each . Two wheelers Rs 100 . The green fee will be valid for a week .
The Shimla municipal corporation has signed an agreement with VK Group of Patiala which will collect the tax and pay Rs 6 crore every year to the fund starved civic body .
Barrier points have been set up at various entry points . At Tara Devi on the busy Kalka-Shimla highway . Near Totu the road leading up from lower Himachal . And also at Mehli and at Dhalli .
The Shimla civic body plans spending this money on tourism services and on building parking lots in the hill station .
Shimla is popular with holidaymakers as a year-round tourist destination . But the steep terrain and crowded hill station has very little space for parking .
The imposition of the green tax on outside vehicles is likely to discourage the entry of vehicles into the town .
Manali , another popular tourist destination in the state is already imposing green tax on all outiside vehicles .